How to get the perfect strike
When striking the ball from the ground (as opposed to from a tee), it is very important that a player makes a ball-turf strike. That is to say that a divot is not optional when playing this type of shot, but a pre-requisite for a proper strike.
The lowest point of a tour player's swing is a full four inches beyond where the ball was sitting
In fact, I would go so far as to say that you can determine the handicap of a golfer based on where the low point of their swing is relative to the ball's original resting position. You should make your deepest divot with a wedge and your shallowest divot with a fairway wood (depending on the ground conditions, this might just be a scuff of the ground).
So how do we practice this?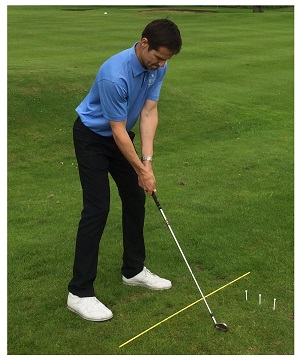 Well here's a good drill that you can use. Place a stick or club on the ground to help you align yourself to the target correctly and address a low tee peg which is inserted into the turf/mat. Then place three tall tees approximately 12 inches in front of this (as shown in the photo here) and make a swing.
Your objective is to make a practice swing and hit the low tee that you are addressing, plus one of the three tees in front. This will help shallow out your swing post-impact. When you can do this successfully, push the tee that you address further into the ground and/or move the three tall tees a little further away (maybe 14 inches or so to begin with) and try again
You have now made the task more difficult
Once you are able to do this successfully 90% of the time, move onto replacing the low tee with a ball. Now try and hit a proper golf shot whilst still removing one of the three tees. Many of my pupils find it harder when there's a ball there despite nothing else changing.
Keep practicing and your success rate will increase as will the quality of your ball striking.