How to improve your distance control when putting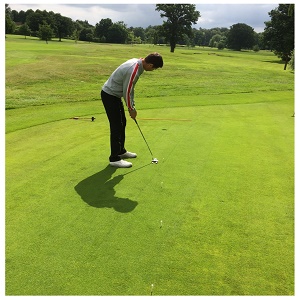 Place a club or alignment stick a putter's length (approx 3 feet) behind a hole. Then putt to the hole from 6 feet. If the ball goes in the hole or misses but comes to rest beyond the hole without touching the club/alignment stick, you progress to nine feet away.
You then try and do the same again. If you're successful, you move to 12 feet from the hole. You keep moving up in 3 feet increments until you miss.
Your punishment for missing is to start back at 6 feet away from the hole
Make a note of how far you managed to get away from the hole and then repeat it a few days later to see if you can improve. This is a great drill for simulating a little bit of pressure as you attempt to beat a previous best score.
Give it a try and let me know how you get on.
When I tried it, I had to give up because the putting green wasn't long enough....... ahem!