Hole more putts with this practice drill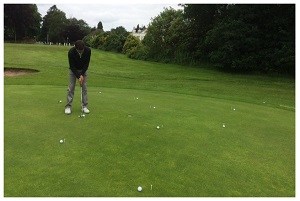 Set up 10 tee pegs around the hole (as per the photo here) with three being three feet away from the cup (just a little longer than a standard putter length), three being six feet from the hole, three being nine feet from the hole and a final putt (the bonus ball) from six feet. Putt from them in rotation and keep score. If you hole six or more out of nine then you progress to the bonus ball from six feet. Knock this one in and congratulations you move onto level two. Level two just requires you to add in an extra three footer so that you now need to hole seven putts out of ten to move onto the bonus ball.
This is a great putting drill for several reasons. First, you can quantify it by keeping a record of how you progressed in one practice session and then returning to the drill a few days later to see if you can improve on your previous score. Second, it simulates pressure because if you get a go at the bonus ball you've worked pretty hard to get there so you really don't want to miss it. Third, if you practice this on the chipping green, as I am in the picture, there is a reasonable amount of slope on the green so you will be practicing all breaks of putt i.e. uphill, downhill, right to left and left to right. Furthermore it's an engaging drill and fun to have a go at.
I've tried it myself along with the juniors, a ladies group and some of my individual lessons and it works really well. Give it a go and if you get beyond stage two, let me know and I'll inform you of level three and beyond...